STK StorageTek 9710 Tape Library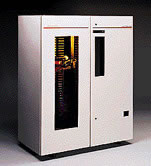 Keeping your STK StorageTek 9710 Tape Library in top-performing condition can be a challenge. Strategic Support Solutions can help. We offer parts, service, repair and maintenace programs for the STK 9710 tape library to ensure your data is secure for short and long term access. Below are some of the parts Strategic Support has on hand for purchase or to send out for an Advanced Exchange Repair. We can also repair your tape StorageTek 9710 tape library, tape drive, hand assembly, or power supply in our lab.
Call us at 866-994-4235!
| Part Number | Description |
| --- | --- |
| 10148003 | HD68, DIFF, TERMINATOR |
| 3082803XX | 6 CELL ARRAY ASSEMBLY |
| 3102042XX | PRX CARD |
| 3102066XX | PRS CARD, NARROW SCSI, SE/DIFF |
| 3102135XX | PRC CARD, CPU W/FLOPPY |
| 3102172XX | 4890, 36 TRACK DRIVE |
| 3102223XX | PRW CARD, FW DIFF INTERFACE |
| 3102460XX | Z CABLE ASSEMBLY |
| 3102523XX | DLT DRIVE TRAY |
| 3102524XX | DLT SCSI ID & TTI CABLE ASSEMBLY |
| 3102600XX | Z COLUMN ASSEMBLY |
| 3102604XX | Z BELT |
| 3102605XX | Z CARRIAGE ASSEMBLY |
| 3102621XX | THETA BELT |
| 3102628XX | Z FLEX CABLE ASSEMBLY |
| 3102643XX | THETA CABLE ASSEMBLY |
| 3102679XX | HAND ASSEMBLY |
| 3102696XX | DRIVE CHASSIS, DLT/SDLT |
| 3102756XX | OPERATOR PANEL |
| 3102806XX | FAN ASSEMBLY |
| 3102880XX | AC/DC POWER SUPPLY |
| 3102882XX | PDU, POWER SUPPLY, OPTIONAL |
| 3102902XX | OP PANEL CABLE ASSEMBLY |
| 3102947XX | 4890 DRIVE TRAY |
| 3102979XX | PROXIMITY SWITCH CABLE ASSEMBLY |
| 3106725XX | DLT7000, DIFF, DRV & SHUTTLE |
| 3106726XX | DLT4000, DIFF, DRV & SHUTTLE |
| 3131308XX | DLT2000, DIFF, DRV & SHUTTLE |
| 3131309XX | DLT2000, SE, DRV & SHUTTLE |
| 3131311XX | DLT4000, SE, DRV & SHUTTLE |
| 3131312XX | DLT7000, DIFF, DRV & SHUTTLE |
| 3131313XX | DLT7000, SE, DRV & SHUTTLE |
| 3136689XX | DLT7000E, HVD DRV & SHUTTLE |
| 3137153XX | SDLT220/320, HVD, DRIVE |