StorageTek 4890 Tape Drive Repair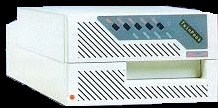 The Sun STK 4890 Tape Drive is a 36 track tape drive capable of reading and writing 18/36 track data. (3480, 3490, 3490E) The drive is ideal for data interchange, data conversion and backup under tough conditions, such as in automated libraries, like the M490L, 9714, 9722, and the 9710.
The STK 4890 is an ultra-fast, robust, and well-proven tape drive. It is both forward and backward compatible and ideal for data interchange and backup in automated tape libraries, which often require 100% duty cycles. This drive comes with outstanding double-speed performance, superior mainframe technology and worldwide interchange standards to midrange users, at a very affordable price. as well as in a compact 8-inch format, making it the smallest of it's class. Its many connectivity and emulation capabilities range from PCs to mainframes. The full air-bearing tape path features no-contact, pressurized fixed heads, and two tape conditioners. This means that the tape floats in a packet of air, designed for minimal tape wear and friction. Strategic Support Solutions can take care of all your SUN StorageTek 4890 tape drive needs. Whether you are looking for parts, excahnges, or repair.
Call us today at (866) 994-4235
| Model # | P/N | Alt P/N | Description | Parts Sales | Parts Exchange | Parts Repair |
| --- | --- | --- | --- | --- | --- | --- |
| 4890-001 | 130913 | 122390 | AIR PUMP ASSY | | | |
| 4890-001 | 131800 | 122430 | DIGITAL DATA PCB (DDP) | | |   |
| 4890-001 | 129823 | 128515 | HEAD PLATE ASSY | | | |
| 4890-001 | 131050 | 129810 | SCSI PCB | | |   |
| 4890-001 | 122600 |   | LACE WHEEL SENSOR | |   |   |
| 4890-001 | 129204 |   | BUTTON PAD, FRT PANEL | |   |   |
| 4890-001 | 129153 |   | COMPLETE LWR MOLDING | |   |   |
| 4890-001 | 130861 |   | BUTTON CAPS | |   |   |
| 4890-001 | 130862 |   | DC SWITCH, w/spring & c-clip | |   |   |
| 4890-001 | 129591 |   | LOWER MOLD FILTER | |   |   |
| 4890-001 | 129590 |   | UPPER MOLD FILTER | |   |   |
| 4890-001 | 130932 |   | RFI PLATE, DT MODEL | |   |   |
| 4890-001 | 129040 |   | OP PANEL INLAY | |   |   |
| 4890-001 | 129319 |   | LATCH MOTOR | |   |   |
| 4890-001 | 132920 |   | LATCH PCB, LOAD MECH | |   |   |
| 4890-001 | 129213 |   | POWER SUPPLY | | |   |
| 4890-001 | 550504 |   | CROWN WHEEL | | | |
| 4890-001 | 129215 |   | FAN ASSY | |   |   |
| 4890-001 | 122384 |   | LACE WHEEL ASSEMBLY | |   |   |
| 4890-001 | 129217 |   | MAIN FILTER ASSY, w/bracket & air solenoid | |   |   |
| 4890-001 | 129520 |   | AIR FILTER (ONLY) | |   |   |
| 4890-001 | 129220 |   | PRE-AMPLIFIER ASSY | |   |   |
| 4890-001 | 129240 |   | DEVICE CONTROL | | |   |
| 4890-001 | 129270 |   | READ PCB | | |   |
| 4890-001 | 129328 |   | TAKE UP MOTOR | |   |   |
| 4890-001 | 129368 |   | GEAR BOX | | | |
| 4890-001 | 129327 |   | SUPPLY MOTOR | |   |   |
| 4890-001 | 129570 |   | SYSTEM PCB | | |   |
| 4890-001 | 129603 |   | AIR SOLENOID | |   |   |
| 4890-001 | 129660 |   | LOADING MECHANISM | | | |
| 4890-001 | 129680 |   | MOTHER BD (S/N>125) | |   |   |
| 4890-001 | 129690 |   | FRONT PANEL(S/N>125) | |   |   |
| 4890-001 | 130904 |   | UPPER MOLDING (ONLY) | |   |   |
| 4890-001 | 131286 |   | MOLDING FRM FRONT | |   |   |
| 4890-001 | 131287 |   | MOLDING FRM REAR | |   |   |
| 4890-001 | 130970 |   | MOTHER BD 4M/S | | |   |
| 4890-001 | 131060 |   | SYSTEM PCB FIPS | | |   |
| 4890-001 | 131720 |   | READ PCB 4M/S | | |   |
| 4890-001 | 130871 |   | LOWER MOLDING (ONLY) | |   |   |
| 4890-001 | 130306 |   | FIPS PCB | | |   |
| 4890-001 | 128507 |   | TAKE UP HUB | |   |   |
| 4890-001 | 131783 |   | COMPLETE UP. MOLD | |   |   |
| 4890-001 | 131870 |   | DDP PCB 4M/S | | |   |
| 4890-001 | 131960 |   | SYSTEMS PCB 4M/S | | |   |
| 4890-001 | 132520 |   | PRE-AMP PCB 4M/S | | |   |
| 4890-001 | 132800 |   | SCSI PCB 4M/S | | |   |