Datto Networking Appliance
The Datto DNA is a Fully Integrated Networking…
All you have to do is add Internet.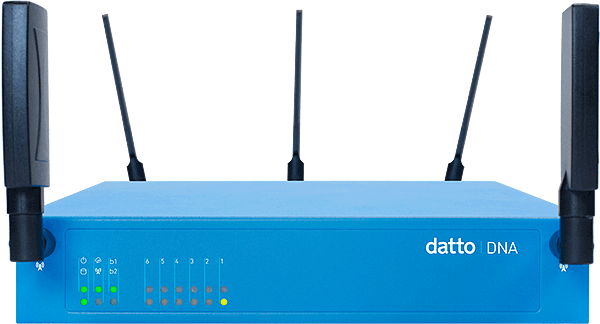 The Datto Networking Appliance comes stock with everything you need to set up a secure network. With built-in edge router and WiFi, simply connect the Datta DNA to an external ISP and enable a wireless network for internal employees or guests.
The Datto DNA has fully integrated 4G LTE failover, and failback supported by  Verizon Wireless. Finally, businesses can enjoy being connected and have a secure internal network setup and running in minutes.
The Datto DNA device comes with built-in top of the line security features.
Such features such as intrusion detection, and prevention. It includes a fully functional firewall featuring a completely integrated Layer 2 protocol analysis. This ensures that the Datto Networking Appliance (DNA) delivers superb performance at a cost point that makes sense to businesses of all sizes.