Exagrid: Stress-Free Backup Storage

     Strategic Support Solutions has teamed up with ExaGrid, to bring you the fastest backup, with the shortest backup window. ExaGrid provides you with the fastest local restores, fastest offsite tape copies and instant VM recoveries.
Strategic Support is proud to be your ExaGrid reseller. Our highly knowledgeable staff can help decide which ExaGrid product is the best fit for your company.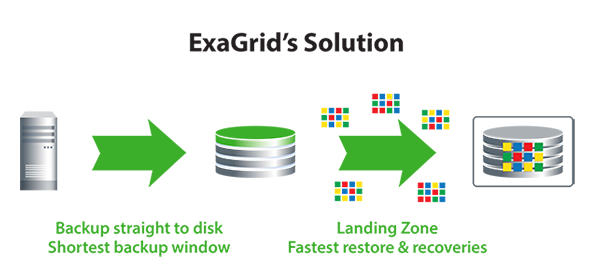 Call us at (866) 994-4235 or Email us today at Support@S3fix.com to speak to an ExaGrid specialist.
Click Here to Register Your ExaGrid Opportunity with Strategic Support Solutions for a Deeper Discount
ExaGrid offers 10 different models, each which has the ability to be mixed and matched with up to 25 appliances in a single scale out GRID.
The largest scale out GRID that ExaGrid offers,  has the capability to take in a 800TB of full backup with an ingest rate of over 187.5TB/hr.
This makes ExaGrid the perfect backup solution for Enterprise customers,
Mid sized organizations, Federal, as well as State and Local government/Education.
______________________________________________________________________________________________________________________
ExaGrid Product Line:
| Exagrid Model | Raw Capacity (TB) | Usable Capacity (TB) | Capacity for Weekly Fulls (TB) |
| --- | --- | --- | --- |
| ExaGrid Appliance Nodes | | | |
| EX1000 | 5 | 2 | 1 |
| EX2000 | 7 | 4 | 2 |
| EX3000 | 9 | 6 | 3 |
| EX4000 | 11 | 8 | 4 |
| EX5000 | 16 | 10 | 5 |
| EX7000 | 20 | 14 | 7 |
| EX10000E | 26 | 20 | 10 |
| EX13000E | 32 | 26 | 13 |
| EX21000E | 48 | 42 | 21 |
| EX32000E | 72 | 63 | 32 |
______________________________________________________________________________________________________________________
Exagrid Resources:
Register your ExaGrid Equipment with Strategic Support
Visit ExaGrid Website
ExaGrid Appliance Product Line Configurations (ExaGrid Data Sheet)
ExaGrid Stress Free Backup Storage (ExaGrid Deduplication Data Sheet)
ExaGrid Special Report (ExaGrid EX Series)
______________________________________________________________________________________________________________________
Fastest Restores, Recoveries, VM boots and Tape Copies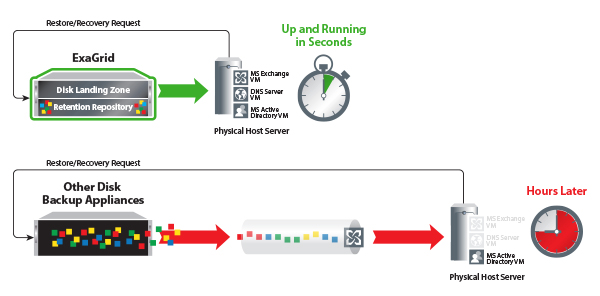 ______________________________________________________________________________________________________________________
Scalability: Fixed length Backup Window and Data Growth