Quantum ADIC PX720 Service and Repair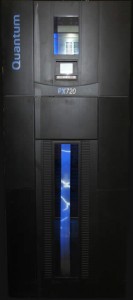 The Quantum PX720 has the ability to up scale with the Capacity on Demand (CoD) feature. the PX720 is the perfect solution to satisfy the requirements of any IT professional's tape library needs.
Accommodates from one to 20 SDLT320, SDLT 600, DLT-S4, LTO-2 or LTO-3 drives and up to 726 media slots. The PX720 tape library is capable scaling to over 3,600 slot
The Quantum ADIC PX720 boasts a very impressive capacity of up to 502TB and a stellar performance of 5.8TB/hr per single frame.
Strategic Support Solutions has the knowledge and materials to repair, replace, or exchange your Quantum PX720 tape library. With over 20 years of tape library experience, Strategic Support will get the job done the fist time and make sure your data is safe. We also offer maintenance conracts for the PX720 library. Call us today at (866) 994-4235 or fill out the form at the bottom of the page.
Part Number
Alternate
Part Number
Description
Part Sales
Part
Exchanges
Repair
6434706-02
0515059
SCSI LVD HBA (Dual Channel)
6445310-03
6442501-01 
Robotics Assembly
6445311-01
6442605-01 
Y-Axis Motor Assembly
6445312-01
0645135 
Y-Axis Belt
6445313-03
 6441000-01
Cabinet Controller PWA
6445314-01
 6442040-01
ASSY, OCP, MAKO
6445315-01
 6443240-01
ASSY,LP SLND RELEASE MECH, LEFT
6445315-02
6443240-02 
ASSY,LP SLND RELEASE MECH, RIGHT
6445316-01
 6440500-01
Drive Cluster Assembly, SDLT/LTO (DC200)
6445317-01
 6441030-01
Drive Cluster Interface PWA
6445317-04
 6441030-04
Drive Cluster Controller, L3, S4
6445318-02
6494534-03
Power Supply Module
6445319-02
 6494534-01
Power Supply Assembly
6445320-01
 6443227-01
AC Fail-Over Box
6445321-01
 6441100-01
Cabinet Light PWA
6445322-02
 6440501-06
Drive Canister, SDLT-320 LVD
6445323-01
    6440503-01
Drive Canister, HP-LTO2
6445324-01
    6442028-01  
CA ASSY,LP/PNL SNSR
6445326-01
6440507-01
Drive Canister, HP-LTO2, FC
6445327-01
6442000-01
Fan Assy, Cabinet Controller
6445328-01
6442000-01
Fan Assy, Drive Cluster
6445329-01
0815044
FRU,SCSI LVD HBA (SNGL CH) (CM210)
6445330-01
0515080 
FRU,FC HBA (DUAL CHANNEL)
6445331-01
6440600-01
FRU, CARDCAGE ASSEMBLY (CC220)
6445333-01
6440613-01
FRU, CARDCAGE FAN ASSEMBLY
6445334-03
6443206-01
CAB CNTRL ASSY
6445335-04
6441005-01
FRU, SMART MEDIA
6445336-01
6442006-01
FRU, CA ASSY,RBTIC UMB CABLE
6445345-02
 
FRU, DRIVE CANISTER, S4, NFC, QTM
6440552-03
6440144-02
DR CNSTR ASSY,SDLT600,V20,QTM
6497018-01
0515069
FC HBA (Dual Channel)
6440501-01
 
SDLT320 LVD SCSI DRIVE
6440552-02
6440552-06
SDLT600 LVD SCSI DRIVE
6440553-01
 
SDLT600 FC DRIVE (FIBRE DRIVE)
6440541-01
 
DLT-S4 FC DRIVE (FIBRE DRIVE)
6430510-01
X7F-L2L
LTO2 SCSI Drive
6440507-03
X7U-L2J
LTO2 FC DRIVE (FIBRE DRIVE)
X7F-L3L
 
LTO3 SCSI LVD DRIVE
6440555-03
X7U-L3U
LTO3 FC DRIVE (FIBRE DRIVE)
6440165-01
X7F-L4J
LTO4 FC DRIVE (FIBRE 4GB DRIVE)